ITER has been under construction since 2007 at the ITER site located in Saint Paul lez Durance in the South of France. The site area measures 180 ha, within which a 1 km Å~ 400 m platform supports the various buildings required for the manufacture and operation of ITER, such as the Tokamak Complex, RF building, Cryostat Workshop, and PF Coil Winding Facility. Just outside the platform lies the ITER HQ building that houses over 800 ITER employees as well as engineers and researchers from the Domestic Agencies, all of whom are hard at work on ITER.
*The ITER Organization has changed the name of the ITER site previously referred to colloquially as "Cadarache" to the official French commune name "St Paul lez Durance."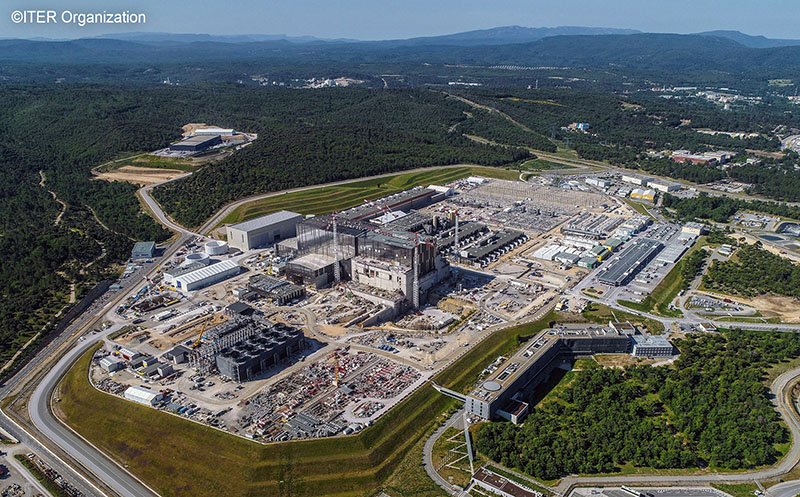 Complete view of the ITER site (Jun. 2020)
The ITER Construction Site (Jan, 2021)
Panorama of the ITER Site (Nov, 2020)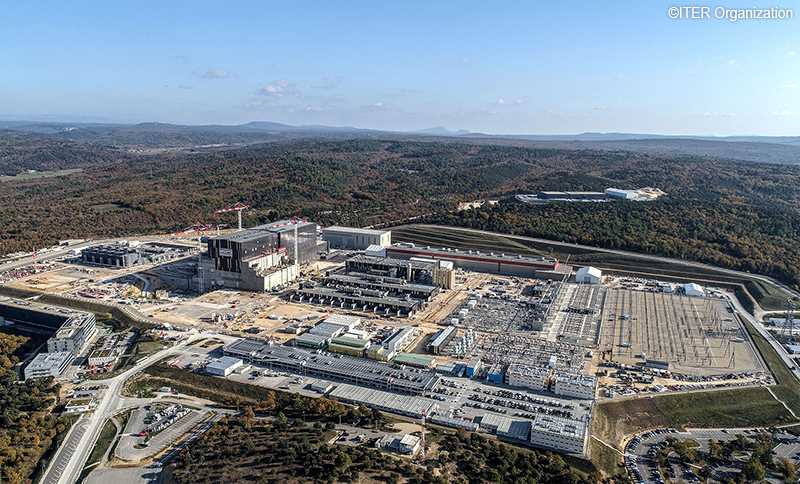 Tokamak Complex (June, 2020)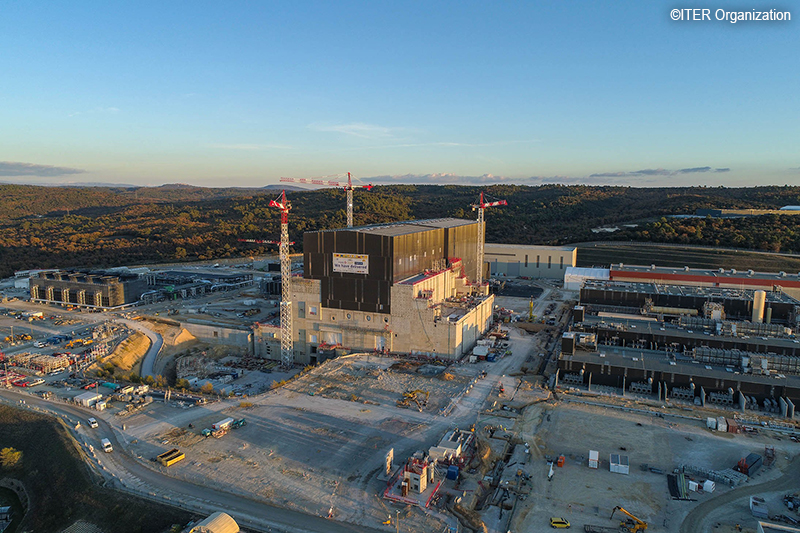 Inside the Tokamak Complex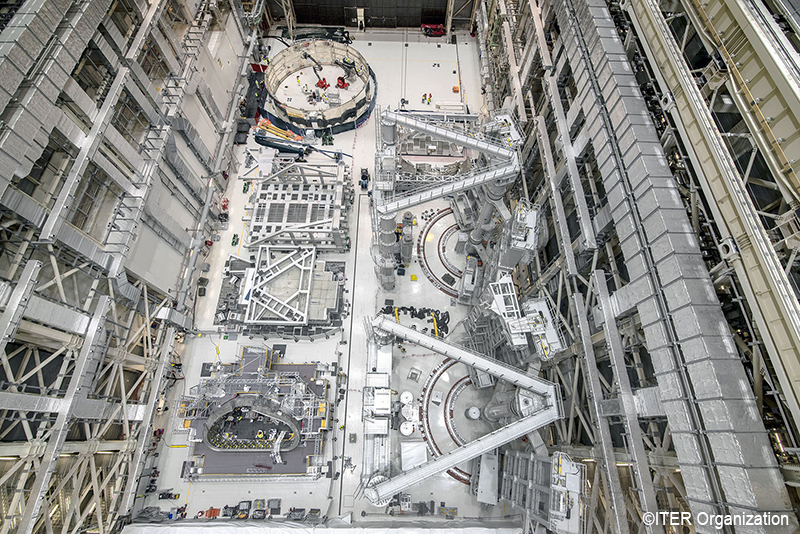 Seen from above, you can see the different work zones of the Assembly Hall. (2020.11.23)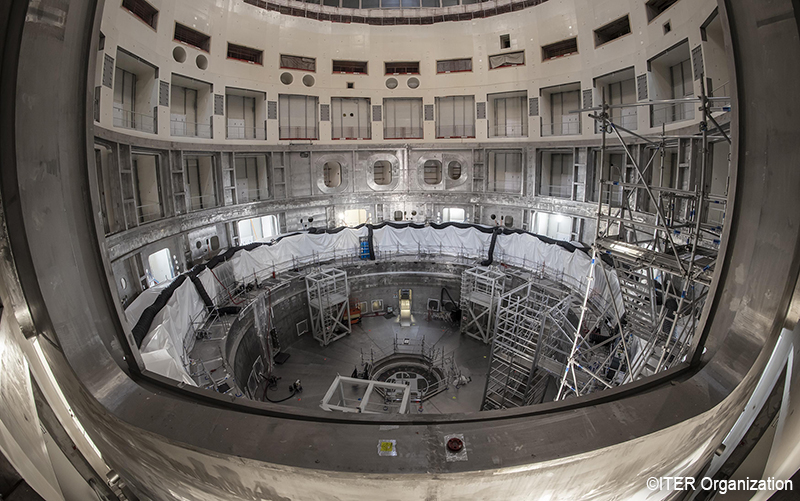 A sneak peek inside the tokamak pit. (2020.12.16)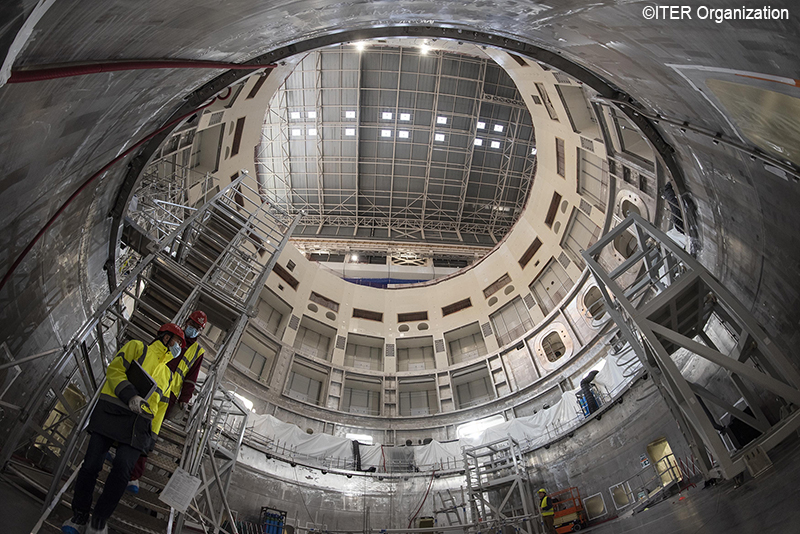 Three tower-shaped alignment tools have been placed inside the tokamak pit 
to install the lower cylinder thermal shield. (2020.12.15)
The lower cylinder thermal shield being lowered to its final position (2021.1.14)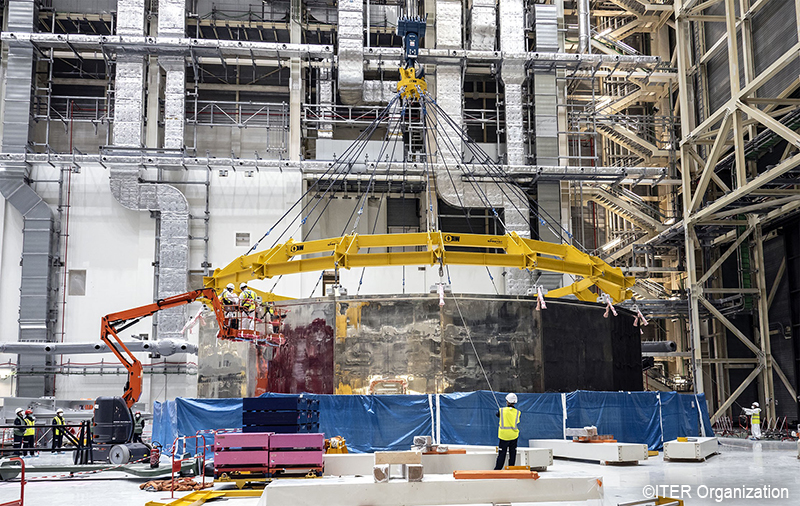 Dubbed the "strong back," this extremely rigid circular lifting device is connected to the extremely thinー10 mmーlower cylinder thermal shield via 18 attachments.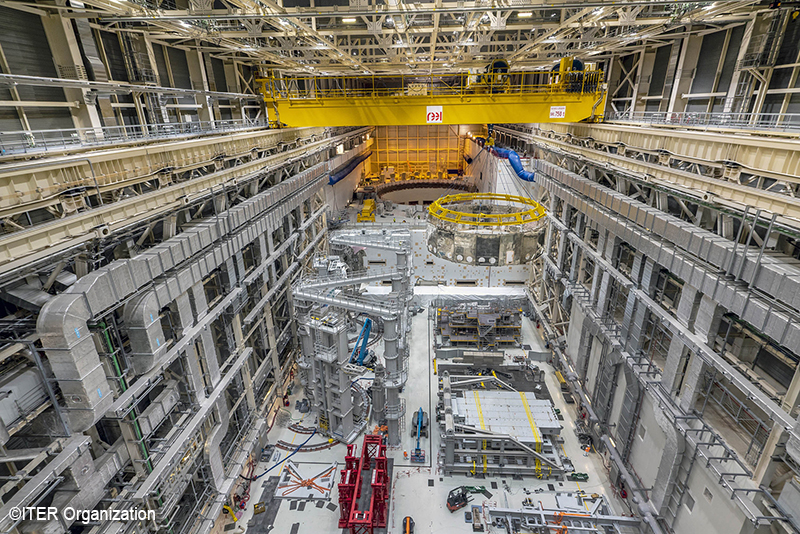 The 50-tonne lower cylinder thermal shield is lifted where it then reaches its cruising altitude (23 meters) and speed (2 meters/minute).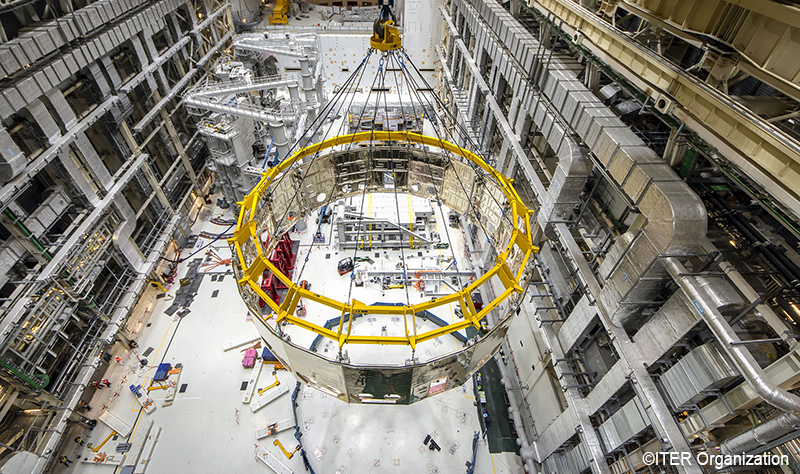 After a few minutes at its cruising altitude of 23 meters, the lower cylinder thermal shield arrived at its final destination at the other end of the assembly theatre and was positioned above the tokamak pit.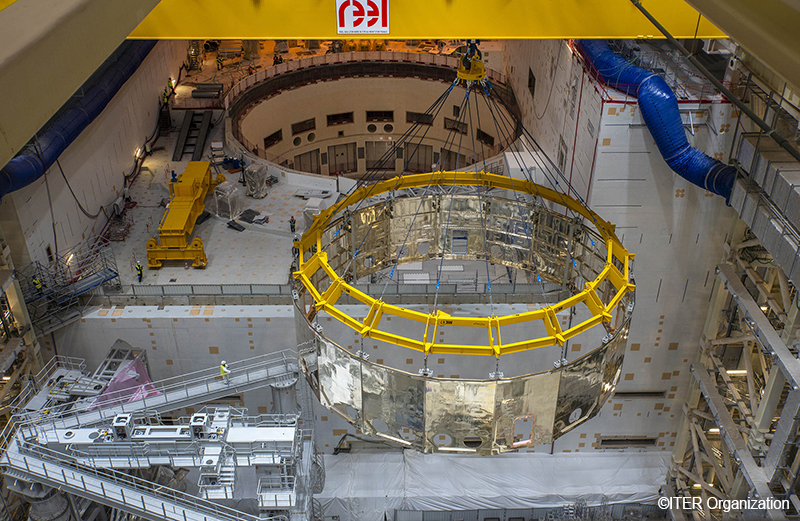 The approximately 100-meter "flight" took the component over the giant twin assembly tools.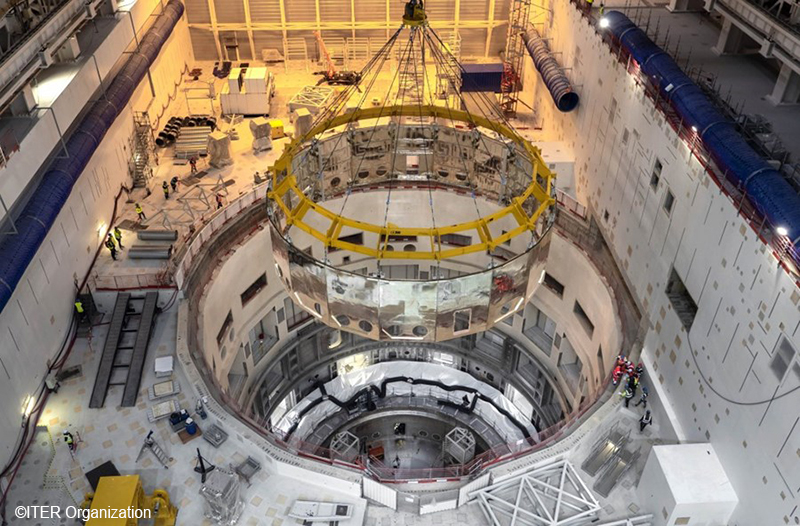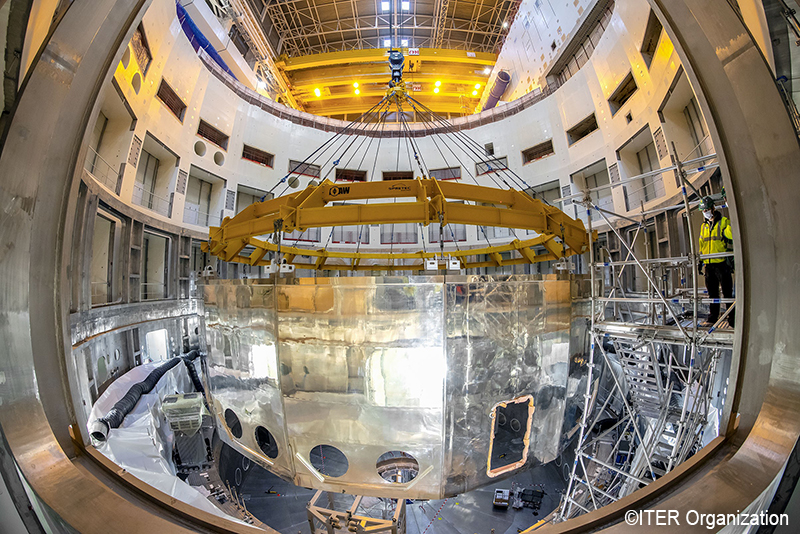 Here we see the lower cylinder thermal shield ready to be lowered to its final position in the tokamak pit. Some adjustments were required before its "final descent."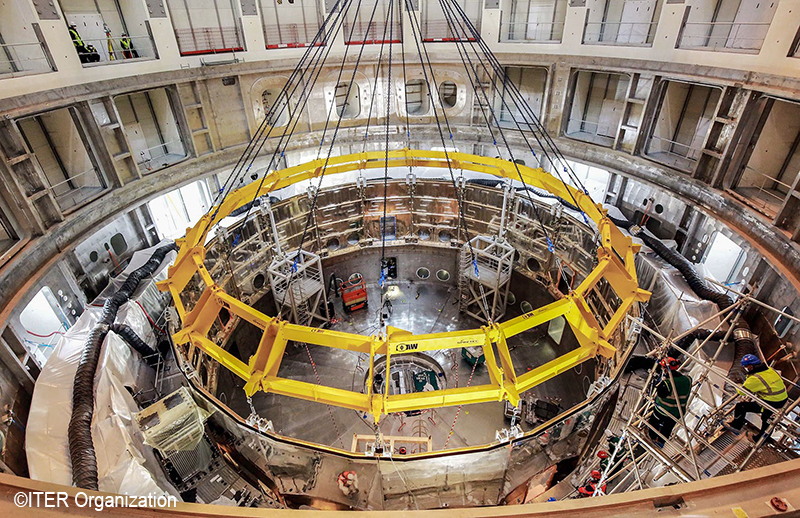 By gently pulling on ropes to ensure perfect alignment, the component was successfully maneuvered around the protruding anchor bolts of the coil gravity support (left).
Lastly, the alignment tools were used for final adjustments to position the lower cylinder thermal shield at its expected position at the bottom of the pit.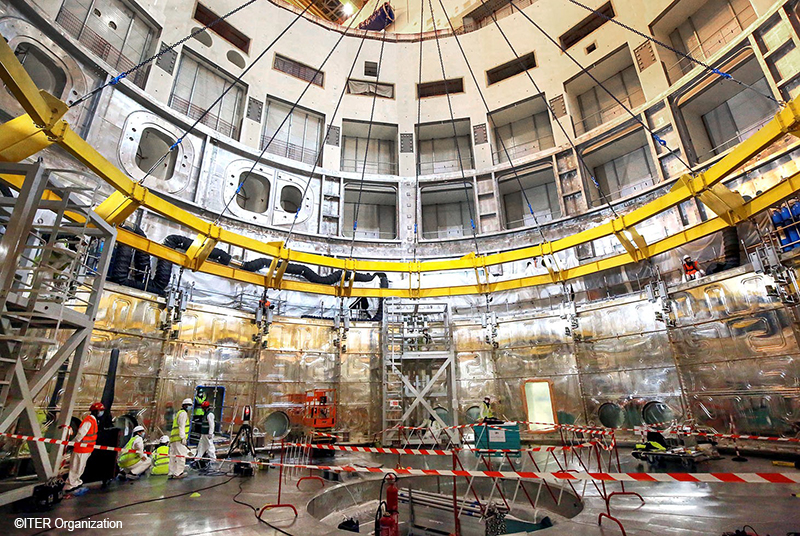 Vacuum vessel sector, VVS #6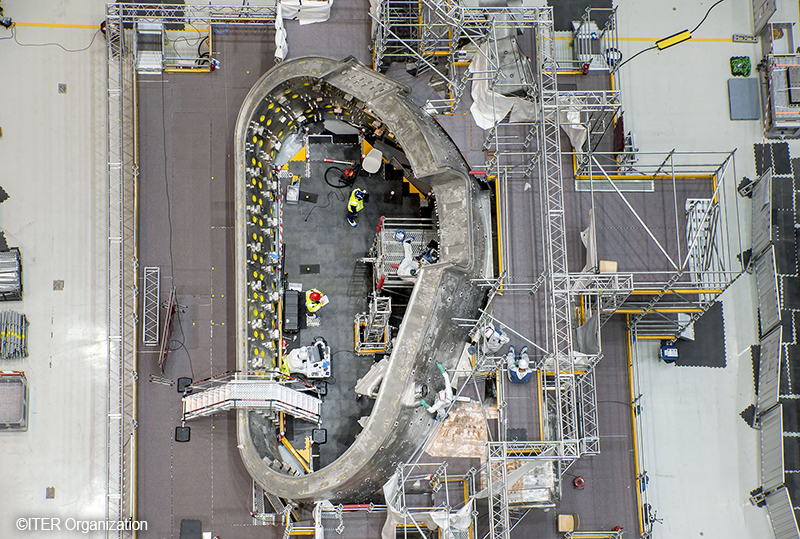 Hard at work preparing the first vacuum vessel sector for pre-assembly. (2020.11.23)
The third Japanese toroidal field coil is shipped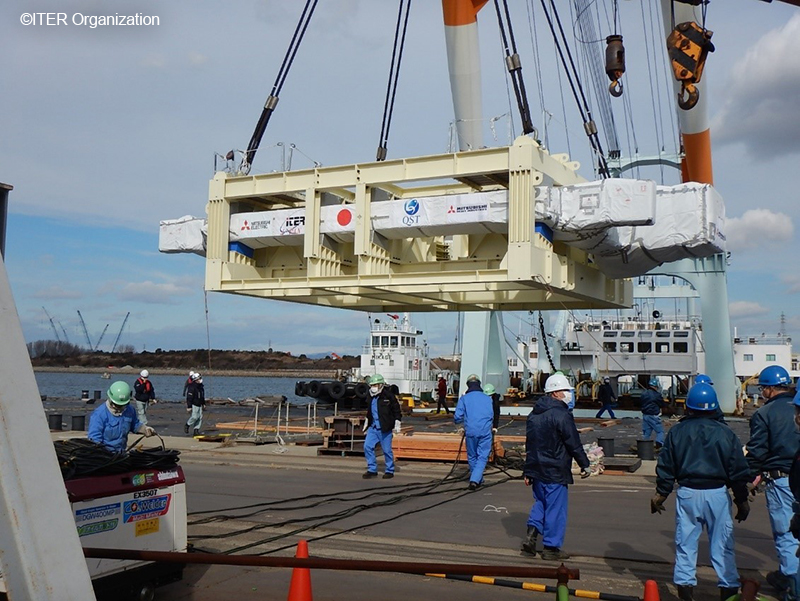 The third Japanese-manufactured toroidal field coil (TF coil No. 4) leaves from Mitsubishi Heavy Industries' Futami Plant. (2021.1.12)